Sensational Client Results
Industry Prestige
5-Star Fees
Take Center Stage & Become an
Asked-for-by-Name Six-Figure + Coach
A 12 Month Business Mentorship for Coaches Rising Above the Noise
With Nationally Renowned Coach, Speaker, and Best-Selling Author
Laura Berman Fortgang, MCC
You've got what it takes to:
Earn $100K + (or an additional 100K)
Create sensational client breakthroughs
Become the asked-for person in your specialty
Speak at world class events
Book clients by referral each month
Land book deals & media spotlights
Become renowned for your impact
YOU'RE HUSTLING for clients and undercharging.
If you know coaching is your calling
and you want to be a top coach in the industry:
is your ticket to the inner circle of coaches
who are well-paid, well-respected, and well…
When you have client testimonials like this,
EVERYTHING CHANGES.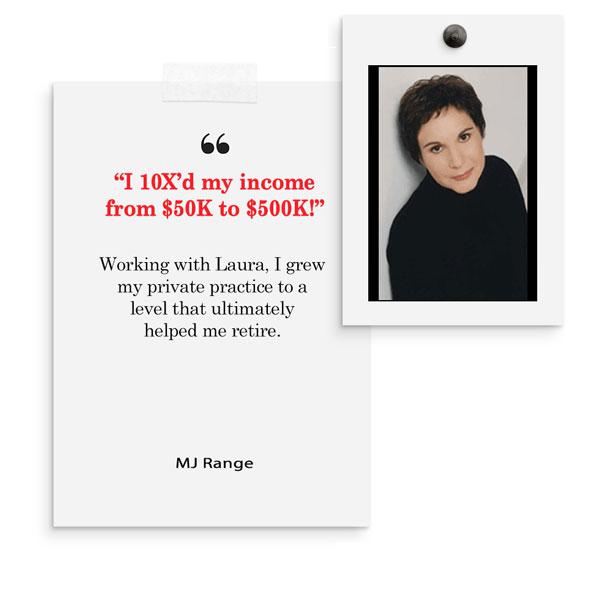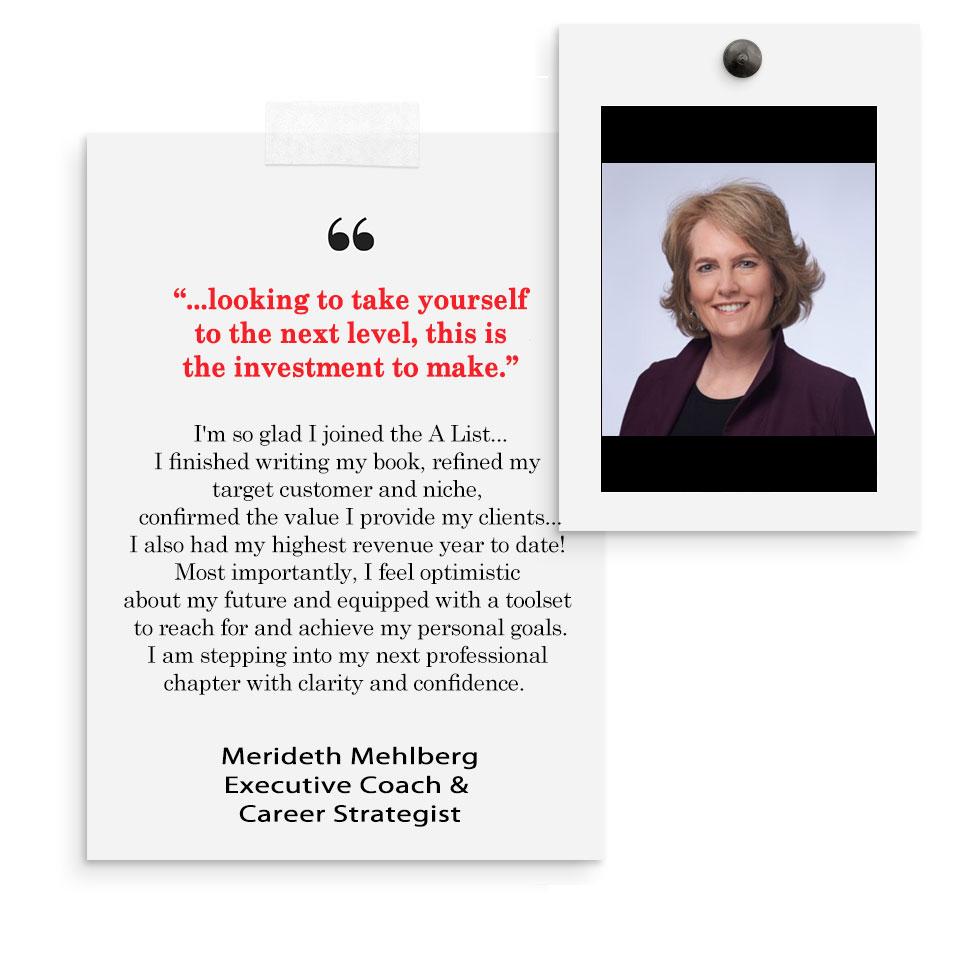 Average coaches struggle.
The difference is simple:
Sensational Results that become your Branded Methodology.
Hello my friend!
Laura Berman Fortgang here, Nationally Renowned Coach, Speaker, and Best-Selling Author.
The difference between average coaches and great ones is their ability to get sensational client results and then turn that into their signature methodology.
(of an event, a person, or a piece of information) causing great public interest and excitement
When your clients are blown away
They tell all their friends and refer you constantly
Those referrals come to you pre-sold. (You just ask a few questions and collect credit card details.)
Your coaching practice quickly becomes booked solid & your waiting list grows
You keep raising your fees, which attracts more successful clients
You develop a reputation quickly, which leads to opportunities to speak, teach, and collaborate with industry leaders
Your media presence and association with top industry leaders builds an A-List presence and your services become more & more desirable
By focusing on creating 5-star client results, I've become known as an A-List coach:
Established and sustained a multi-six figure coaching practice
Helped build the ICF from scratch
Worked with giant corporate clients like TJMaxx and Johnson & Johnson
Worked with celebrity clients for Saturday Night Live, CNN, Hollywood, and more
Featured in Money Magazine, Fast Company and Entrepreneur Magazine
Wrote five best-selling books (2 book awards too!) with major publishers
Interviewed by Oprah and every major US news outlet
Presented a Tedx Talk with over 1.8 million views
But wait! Before you think I have some Ivy League credentials, let me tell you:
The only people who get rejected more than coaches are actors, and being a struggling actress is exactly where I started out.
In my tender years of 22-30, I worked as a professional actress. Highs and lows. Rejection after rejection. It was ruthless and brutal. After eight years in industry, I woke up one day and knew that path was no longer for me.
But I learned so many things that have skyrocketed my career as a coach.
Within 9 months of starting my coaching practice, I had landed large corporate clients and was starting to receive international acclaim.
The techniques I had learned from my acting background were finally paying off!
Presence
Commitment
Communication
Unafraid of rejection
I'll show you how to create the mindset & skill set you need to become a coach people ask for by name.
Clients pay you for ONE REASON:
They want to be more like you.
I'll show you how to create the mindset & skill set you need to become a coach people ask for by name.
Most coaches aren't taught how to create client breakthroughs & cash fast.
(Good thing you're not "most coaches")
Isn't it kinda crazy that most graduates from prestigious coach training programs never make more than a mailman's salary?
They get stuck in the middle ground of mediocre coaching results & mediocre fees, always needing to hustle for the next client. Eventually, they get burnt out & close up shop. 
The truth is: 82% of coaches* ultimately fail. Luckily, my client Sue found me first. Does Sue's story sound familiar?
My client Sue came to me in a client famine … dropping her rates in the hopes that she could attract more clients. When we met, she was willing to take any client with a little bit of money to spend.
I recommended just the opposite: raising her rates to be more in line with the types of clients she wanted to serve — and not accepting anything less.
We worked not only on her A-List positioning but also on her coaching skills and her sense of worthiness. We also built a new network that gave her a pipeline of speaking opportunities, which, in turn, brought in more new clients. Sue now has clients booked out months in advance and has to turn away interested prospects. She's also more than doubled her income, reporting a 60% increase over the previous year!
Yes, you need to learn a little marketing and sales…
but your business really takes off when you turn your sensational results into your own methodology.
The industry is full of "coaches" who give advice and teach you a formula that works for them.
But the truth is, good coaching isn't about giving advice, and formulas by others don't work for you unless you make them your own!
Most of those 'coaches' have never taken a coaching course in their lives. They are INSTRUCTORS and they won't tailor their formula to fit you nor have they done what you do for a living.
But I have….for DECADES…and I'll show you what's worked for me but I'll help you fit it to your needs and your desires, nor mine.
You need to do 5 simple things to become an A-List Coach who gets paid 5-star fees:
Get Sensational Client Results
Attract Quality Clients with an A-List Presence
Master the Coaching Sales Call (it's unique to THIS industry)
Harness your own branded methodology
Adopt a 6-Figure Coach's Calendar
THE A-LIST WILL TEACH YOU THESE SKILLS STEP BY STEP (and MORE!)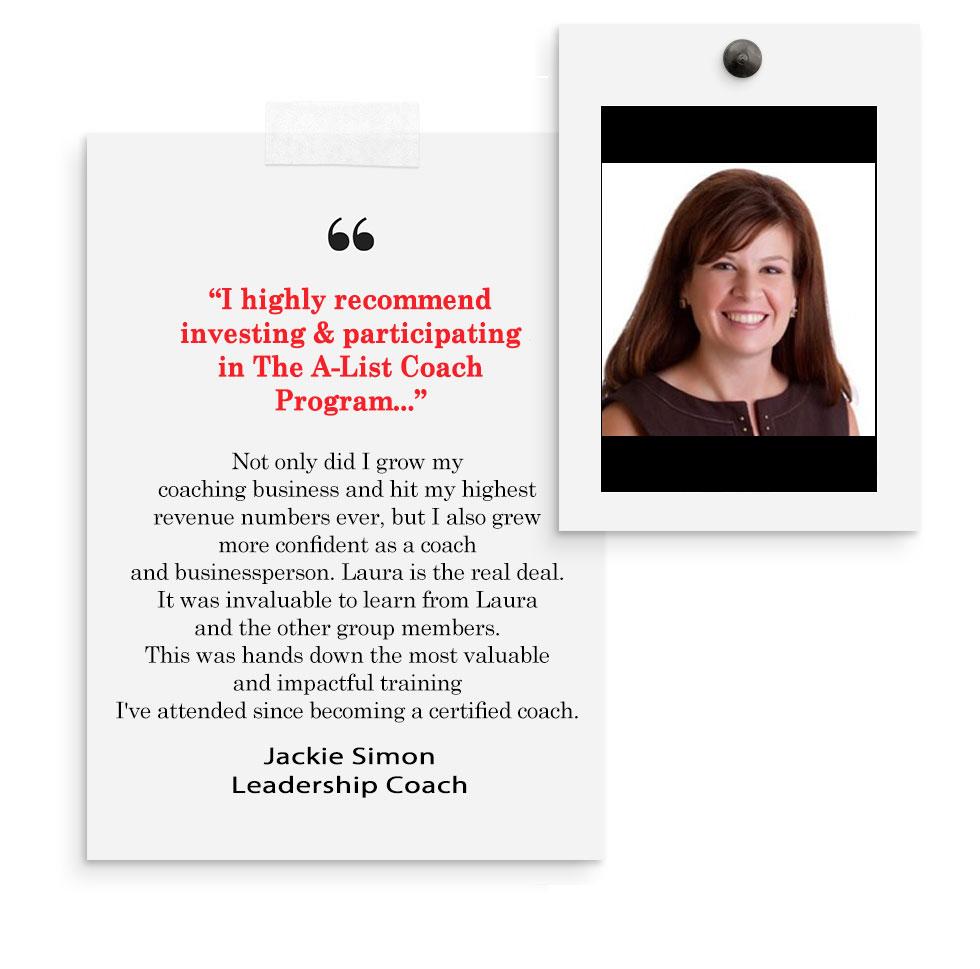 The 5 Fatal Errors

That Prevent Many Coaches
From Lasting 2 Years in the Coaching Business,
Let Alone Achieving 6 or 7 Figures
Their coaching skills are mediocre at best.
With such a low point of entry, coaches are a dime a dozen right now, and you can't charge a dime more if you don't outshine the average coach. My Sensational Results Coaching Techniques will give you the tiny tweaks that take you from average to A-list, so you can achieve front-page results, starting with your next client!
They don't know how they do what they do.

When you take the time to really name the results you create and then study how you get them, you can create your own branded methodology. This becomes the cornerstone to your own cottage industry! You move out of solopreneur and into sensational brand sky-rocketing your reputation, your impact and income.
They're in over their head with complex marketing tactics.

You think you need flashy marketing to stand out from all the other coaches in your market. So you buy fancy software, try all the shiny objects, and get lost in the complexity of marketing. (Eventually, if you just keep buying courses, you'll land on "the one," right?) Nope! Forget complicated marketing tactics. It's not sustainable. The secret to getting seen is The A-List Coach's Positioning System. I'll show you how to put yourself on your ideal clients' radar with simple positioning methods that attract premier clients fast!
They were never taught how to sell.

Your coach training taught you how to coach, but I'd bet you a small fortune you never learned to sell. Here's the thing: you can't succeed without selling. I'll give you my Sell by Coaching Sales Method to slash your sales calls to 20 minutes and sell on the spot by doing what you do best – coaching the client through their fears to a "Yes!"
They spend their time all wrong.

If you've never made 6-figures coaching, you probably don't even realize the close connection between how you spend your time and how much you earn. A-List coaches use their time very differently from the coaches who struggle, like the 82% of coaches* who fail and close their businesses. With my 6-Figure Coach's Calendar, you'll know exactly what to work on and where to spend your time, so you can create the 6-figure results without the burnout, time-wasters, and tech headaches.
TEACHES YOU HOW TO BECOME A RENOWNED, 6-FIGURE + COACH.
Here's what you'll learn:
How to Attract Premier Clients by Cultivating an A-List Presence
The way you position yourself in the market, package your services, and set your pricing will either attract nightmare clients or premier clients. Nightmare clients don't pay, don't get results, and don't refer. Premier clients love to pay, get great results, and can't stop talking about you. I'll show you how to position yourself as a leader in the industry and get the public asking for you by name with The A-List Coach's Positioning System.
How to Land Premier Clients in 20 Minutes or Less by Mastering the Sell by Coaching Sales Method
Hyper-focused sales calls focus on the 2-3 points you need to know to put premier clients on your client list. I'll show you how to open, run, and close a sales call from "Hello" to "How do you want to make that payment today?" The Sell by Coaching Sales Method teaches you how to use your coaching skills to "coach a prospect" through the sale, rather than being sales-y or pushy. These methods can be followed loosely or to the letter, depending on your style and personality. Once you learn my effortless way to sell, you'll be booked and filling your client waiting list sooner than you think.
How to Get Clients Sensational Results Super Fast with My Sensational Results Coaching Techniques
Mediocre coaches conduct hour-long coaching calls where they allow their clients to fill the time with story and drama. Great coaches cut right through to the heart of the matter, ask tough questions, and have their clients commit to being bigger and better. I'll teach you my Sensational Results Coaching Techniques, so you can learn how to change your client's mind and get them to take action incredibly fast. These techniques don't replace your coaching certification. They augment it for better, faster results.
How to Extrapolate Your Own Methodology to go from Solopreneur to Sensational Brand
You may not even realize that you have a method to your coaching that can be leveraged into a book, signature talk, course, Tedx talk and other products that can grow your impact and increase your income. I'll show you the gold mine you are sitting on and how to feel authentic and unique in what you offer. Even if you think others do the same thing you do. They don't!
How to Use Your Time like a Pro & Operate Your Business with a 6-Figure Coach's Calendar.
Your time is precious, precious gold. If you want to earn like an A-List Coach, you have to spend your time in a way that allows you to earn 6 figures. My 6-Figure Coach's Calendar clears the clutter off your plate and sharpens your focus on the few activities you need to do to be able to comfortably reach or 6-figures in a 30 – 40 hour work week. We'll be reducing complexity, simplifying everything, and producing a well-oiled business that runs without your being bogged down in detail, overwhelm or tech.
I can see your path to industry prestige & 6-figure + profits. Will you follow it?
In 12 months, you can accomplish all this:
Hone in on the unique talents + traits that land YOU the leading role in your market
Plot out the line-by-line strategy to take you to $100K profits and beyond
Replace your corporate income so you can give legs to your moonlighting pursuits (or ramp up your full-time coaching business)
Mine your methodology
Explore and choose your delivery method (courses, podcast, book(s), professional speaking, TEDx Talk)
Put together a cast of leading clients who pay your $4K+ packages with pleasure
Get so skilled at enrollment conversations, you could almost do them in your sleep
Draw wisdom and support from my expertise to shortcut your path to a profitable business
Build a club of raving fans (clients!) whose lives have changed because of you
Establish a reputation as an A-lister
Free up more time to spend on your favorite off-stage pursuits
THE A-LIST IS THE ONLY COACHING PROGRAM THAT GIVES COACHES A PLACE TO PRACTICE THEIR SALES & COACHING SKILLS.
For exceptional results, show up to rehearsals.
Inside THE A-LIST, I'll show you how you can leverage my acting skills to create sensational results.
Actors improve their craft through repetition, rehearsals, and running their lines until they're so ingrained, they become the character.
I've adopted this process to help coaches adopt a 6-figure mindset and an elite coaching skill set. You can become incredibly successful through practice too.
Introducing THE COACH'S STUDIO
In THE A-LIST, you'll have access to The Coach's Studio: a virtual space to practice your coaching techniques, A-List positioning work, and Selling by Coaching sales skills out loud.
In acting, we call this "putting a script on its feet." It's not enough to know what to say. You have to practice delivering it with feeling and conviction. I've found it really helps to have a space to practice in real time.
With 12 months of support in The Coach's Studio, you'll take your sales skills, on-camera marketing skills, and coaching skills from average to A-list level, worthy of premium compensation. Come to rehearsals, baby.
Here's How THE A-LIST Works
Onboarding Call with Laura
You'll get Laura up to speed on your business and the goals you have for the year you'll spend together.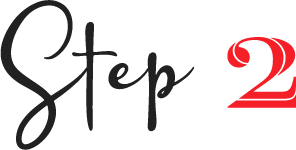 Complete the Quick-Start Training to Start Seeing Better Client Results and More Cash Right Away
The Quick-Start Training gets every new member oriented with some foundational principles for a successful coaching business. We'll take the first 4 weeks to go over four core modules that will have you seeing success in THE A-LIST fast:
1. Wisdom-Access Questions for better, faster client results.
2. Sell by Coaching Sales Methods for easier client enrollment.
3. Premier Client Packages for bigger paydays and higher-ticket fees.
4. The A-List Positioning System to start attracting premier clients quickly.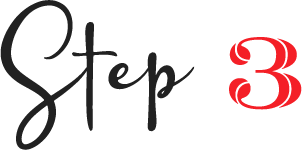 Attend the Live Spotlight Training to Develop Your Coaching, Sales, & Business Management Skills
Every month, we'll spotlight a specific skill you'll need to be developing on your path to 6-figure coaching. You'll pop into our private Zoom group for a Live training session to help you master the Sensational Coaching Techniques and the business side of running a coaching business. Every month, we cover one relevant topic in depth to take you to a new level of mastery. All the new trainings get loaded into the Backstage training vault for convenient access when you need a refresher.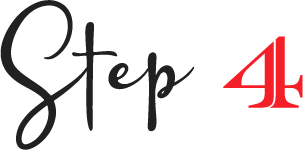 Reserve Time in The Coach's Studio to Practice Your Skills Live with Laura & Your Peers
We are meeting weekly. We have our teaching call mentioned above. Then we have our Studio day each month. We have Studio hours available to practice your enrollment conversations, coaching skills, and A-List Presence Positioning System. This is your opportunity to rehearse your answers to your clients' questions, practice overcoming objections, and strategize your positioning work in real-time, in a safe environment. You can also pitch an idea or practice a speech!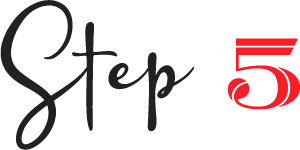 Attend the Monthly Coaching Hot Seats
Laura will troubleshoot any coaching issues that you need help working through. Got yourself into a sticky client situation? Have a business issue to clear up? Getting in your own way? Laura helps you handle it.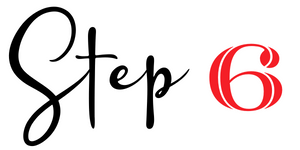 Attend our Monthly Guest Speaker Call
One of our weekly calls will have a guest speaker and expert every month connected to the subject of the month or something related to building your A-List reputation and business.
ALSO, Enjoy our online training portal to Access Every Program Call Recording
All training materials and recorded calls are available to you at all times in the Backstage Training Vault. You can always go back and watch them when you need a refresher or more advanced insight into a certain topic. The Vault is your resource library for mastering the craft of coaching & becoming a renowned, 6-figure coach.
The A-LIST will have you creating
sensational client results like these: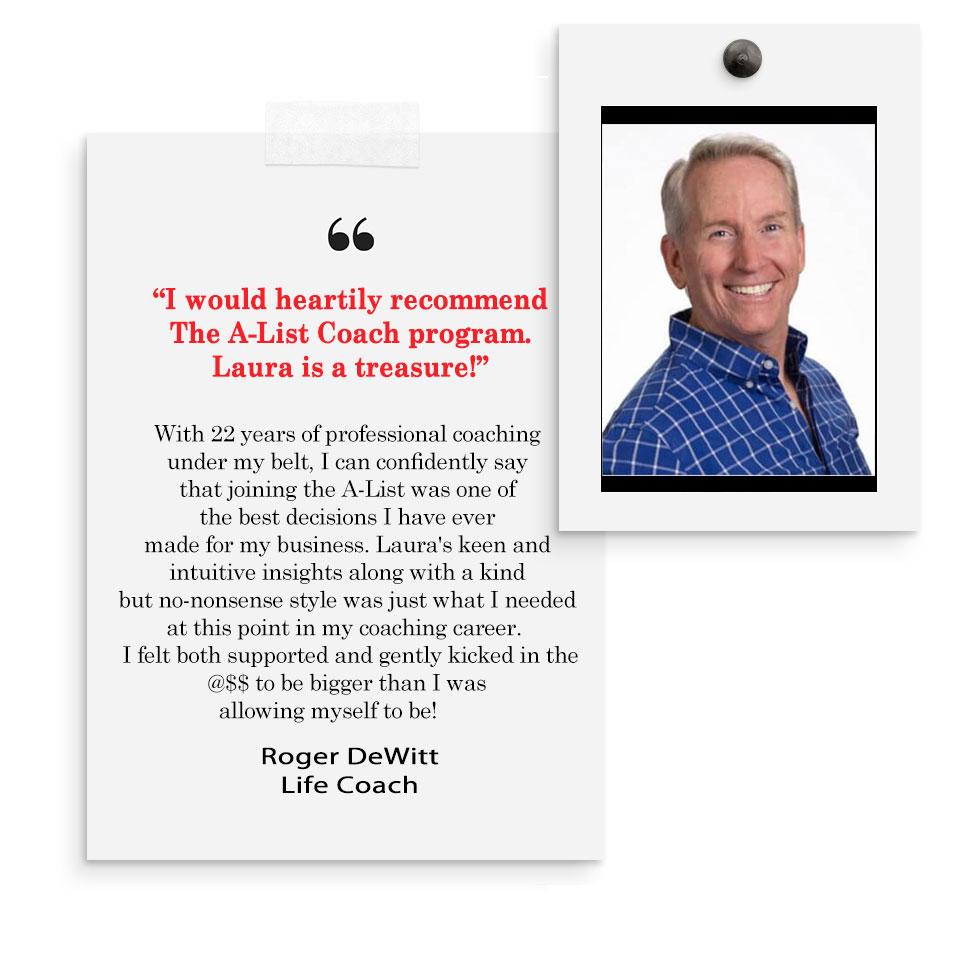 12 Months of Group Coaching with Laura
Laura will be training & coaching you to create your 6-figure or next 6-figures coaching breakthrough for 12 months in a group setting. You don't have to "wing it" or figure everything out yourself. Laura makes herself available to her A-LIST clients as you work through the materials in THE A-LIST program.
A Comprehensive Backstage Training Vault
The Backstage Training Vault contains all of the exclusive content, resources, and training replays you need to build a steady flow of Premier Clients and an A-List Presence that builds industry prestige. Need a refresher on the enrollment process? Have a question about your coaching policies? The membership vault holds all recorded trainings on every topic for coaching mastery, from breaking personal barriers to overcoming sales call objections. Review the materials on the topics you need, as you need them. The training modules are available at all times during your 12-month membership.
Monthly Live Spotlight Training Calls
Meet with Laura and your fellow A-LIST Coaches every week. Every month, we go deep into one topic to lead to a deeper level of coaching mastery. These calls are interactive, so you can bring your real-time questions to Laura during the Q&A portion of each call.
Monthly Live Rehearsal in The Coach's Studio
Laura offers monthly studio hours for members, so you can role play client sales and coaching calls. You'll also be able to practice all the A-List Positioning work you need to attract the Premier Clients who will pay your new high-ticket fees. As we advance, you'll use the Studio for pitching ideas or rehearsing a presentation!
Monthly Coaching Hot Seats
Every month, Laura will put you in the hot seat to highlight opportunities for improvement. Attending these are essential in mastering your ability to close coaching contracts and get clients sensational results fast. They are also for getting yourself out of your own way!
Monthly Guest Speakers
Every month we'll have an expert in the areas that we are delving into and others that being great insight into doing your business WELL and also deepening your knowledge of the areas within which you have goals you want to reach. Speakers include: Tedx talk experts, legal advisors, messaging gurus and more.
Access the Private Facebook Group
Use the A-LIST Facebook group to mastermind with your peer coaches who are taking themselves to the top of the industry. Share industry contacts, network, collaborate, ask questions, and get support from your fellow coaches. A rising tide lifts all boats, and together we rise.
I know what you're thinking…
"Is this going to work for me?"
This program only works if you work it. Whether you're hoping to leave corporate to follow your dream of becoming an A-List Coach or you're a few (less than lucrative) years in, this program will get you to a much higher level in business quicker than you can get there by yourself. If you follow the guidance I give you, you won't fail. (There might not be a "magic pill" for success, but there are ways to ensure failure never happens.) I've helped teachers, doctors, entrepreneurs, executives, and other types of professionals live their calling as a well-paid coach, so I can absolutely help you. But you absolutely have to do the work. The responsibility for taking action belongs entirely to you.
Your confidence, cash flow, and client base depends on your ability to inspire sensational client results like these!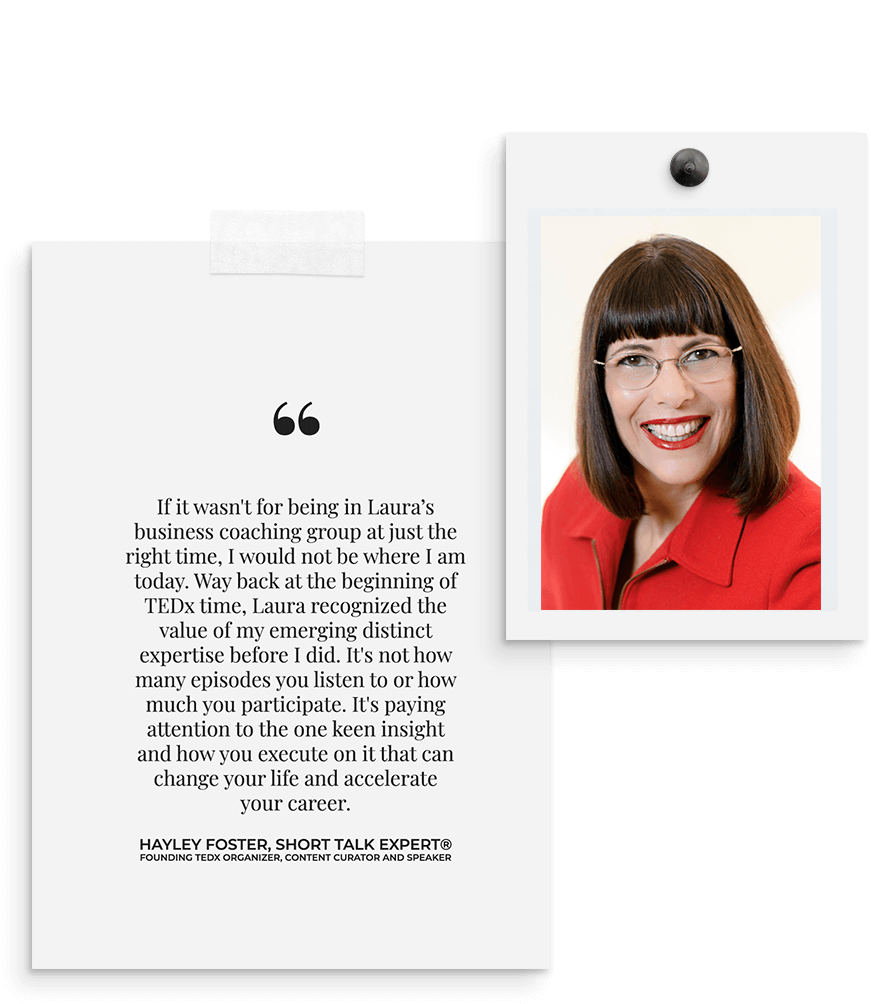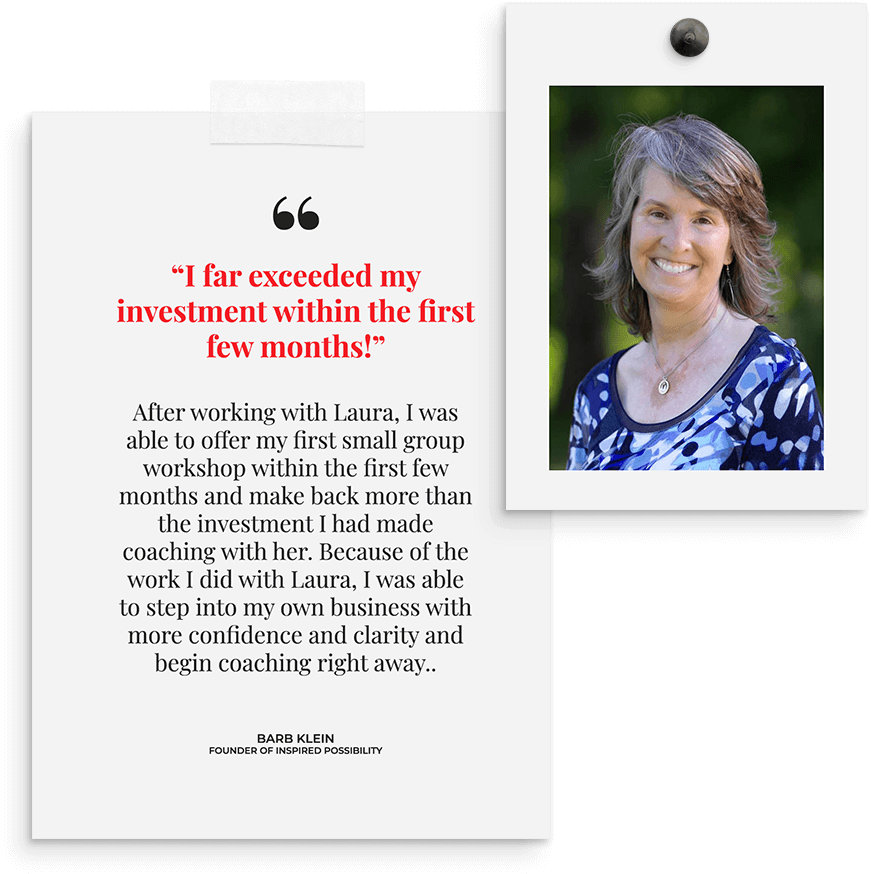 Run your coaching business like a pro:
Nail your sales calls and learn to enroll Premier Clients
Do the meaningful coaching work you feel called to do
Only spend time on simple marketing that works
Secure more clients who make your work a pleasure
Establish a reputation that precedes you
My hill to die on? If you get sensational client results, turn them into a branded methodology and tell the world about it, you'll always be flush with clients.
Everything I stand for comes down to this: Your success is inextricably linked to the success your clients experience.
With sensational client results – the profits, the referrals, the reputation will all take care of themselves.
Over the course of my career in acting, training, public speaking, and career strategizing, I noticed this one thread weaves through all reaches of success.
Once you land a Premier Client and help them achieve incredible results, droves of Premier Clients start coming to you.
Once word gets around that you have the chops to create sensational results, people start to ask for you by name.
Once you land an impressive media opportunity with your methodology, your A-List presence starts to build a reputation.
Once you're seen as an A-List coach, your fees start going up and your waiting list gets booked out.
All you need to do is learn my Sensational Results Coaching and Business Techniques to take your client results from average to A-List.
And I'm here to direct you to the fastest path to those results.
12 Months of Mentorship
from Laura Berman Fortgang
(a $25,000 value)
The focused attention you need to take your business from obscurity to 6-figure + renown
Access to Laura for 12 months
where you'll learn her hard-won knowledge, techniques, and practical applications to elevate your prestige and master the craft of coaching
Monthly Group Spotlight Training Calls where you'll be taught the marketing, sales, coaching, and business management skills you need, along with real-time feedback and Q&A
Monthly Rehearsals in The Coach's Studio to master the craft of sales calls, coaching calls, and positioning work (like Facebook Live, podcast interviews, and Clubhouse talks)
Monthly Coaching Hot Seats where Laura coaches you and pulls back the curtain on her strategies for improving conversions and creating sensational client results, super-fast and getting you out of your own way when necessary.
Monthly Guest Speakers who take on the topics you'll want to take your business to the next level and beyond.
The Backstage Training Vault
(a $9,997 value)
The recorded trainings, modules, and resources you need to master the coaching & business skills
for 6-figure + results
A vault of training videos and modules that focus on every aspect of running a 6-figure-worthy coaching practice, from identifying client personality types to automating your messaging. This content is always available for your reference as you need it.
Access to every detail you need to know about pricing & packaging your offers, mastering enrollment conversations, leveraging free PR, filling your calendar with ideal clients, and more.
Bonus material on writing your first book, giving your own Ted Talk, making appearances on podcasts & TV segments, and more.
Build on the 5 pillars of coaching mastery: Personal Development, Coaching Skills, Mastering Sales, Business Management, and Marketing.
Instructor-led trainings on topics that range from Developing Your Business Persona to Harnessing Intuition to Building A Pipeline of Clients
Access to the Private Facebook Group
(a $2,997 value)
The conversations, collaborations, and connections you need to build a community of peers who are taking themselves to the top
Share industry contacts that help you elevate your positioning and access opportunities to build your A-List Presence
Ask questions and get "hive-mind" feedback based on what's working in real coaching businesses now
Propose collaborations and content swapping to grow your audience and build confidence in being visible in the industry
Receive feedback from Laura and her team 5 days a week on your posts inside the group for those in-between questions that can't wait for the next coaching call
for More 6-Figure + Earning Power
Four Virtual Workshops 90-120 minutes
You'll have four virtual bonus workshops to receive training and working time on:
Sales Calls
On-Camera Technique, Studio Equipment Primer and Best Practices
Messaging Training for Interviews and Podcasts
Co-Working Session on Topics of Your Choice

Discover Your Passion-Driven Purpose
You know you want to be a coach, but you still feel there's some work to do to totally align your focus with what you're most passionate about. This four-part video series and worksheets will help you drill down to the clearest version of your unique purpose you've ever been able to uncover. Having a clear awareness of your purpose will then fuel the passion you have for coaching further and help you clarify your branding.

Autograph Here: Sample Client Agreements
We will provide you with ready to use templates for a sample client agreement, coaching terms/policies, speaking engagements and welcome starter materials for your client. All you need to do is add your logo and consult your attorney to personalize them for your business laws pertaining to your state of residence.

Laura's Book,
"Ask New Questions, Get Better Results"
Laura's sixth book and only self-published tome is a primer on the most essential component of her Sensational Results Coaching Techniques – Wisdom Access Questions – that will become an invaluable tool to getting your clients to close faster and get better results.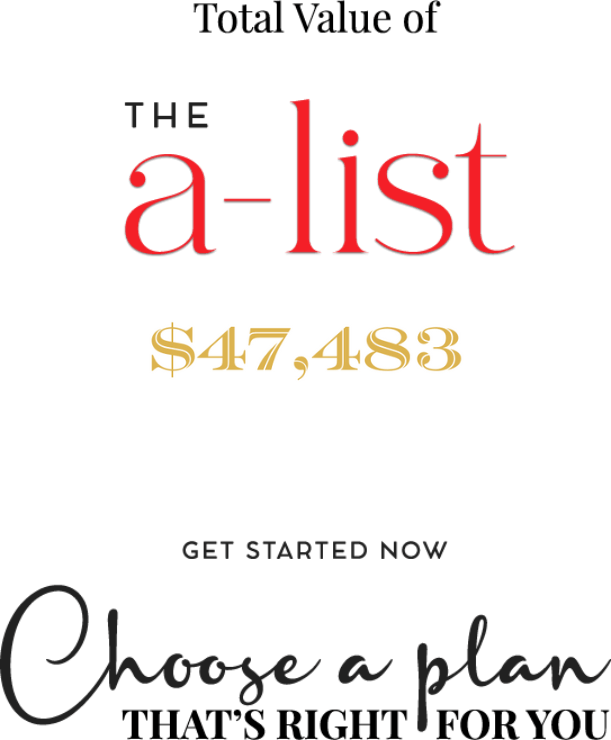 Deposit $1583
Followed by 11 monthly payments
of $1583
Deposit $1583
and subsequent payment of
$14,417
When you add it all up, that's a total value of more than

You ain't gettin' a refund but I'll give you everything I've got.
Generally speaking, we do not offer refunds. You have two weeks inside the program to change your mind (read the fine print!)
If you need support regarding your payments or if you're having challenges being successful with the program, our doors are always open. Reach out to our team to get the support you need.
But rest assured.
If you're 100% committed to implementing what you learn in THE A-LIST, you can't go wrong. My team and I will do everything in our power to support you to see the success you came for.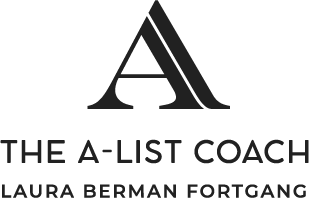 LAURA'S COACHING & BUSINESS-BUILDING STRATEGIES WORK
Here's what Laura's amazing clients have to say about working with her.
When your clients make big moves like these, YOUR REPUTATION PRECEDES YOU.
12 Months of Mentorship with Laura
A-List Coaching Membership Vault
A-List Coaching Private  Mastermind Facebook Group
Bonus #1 Quarterly Workshops

Bonus #2 Discover Your Passion-Driven Purpose Video Course
Bonus #3 Autograph Sample Client Agreements
Bonus #4 Laura's book "Ask New Questions, Get Better Results"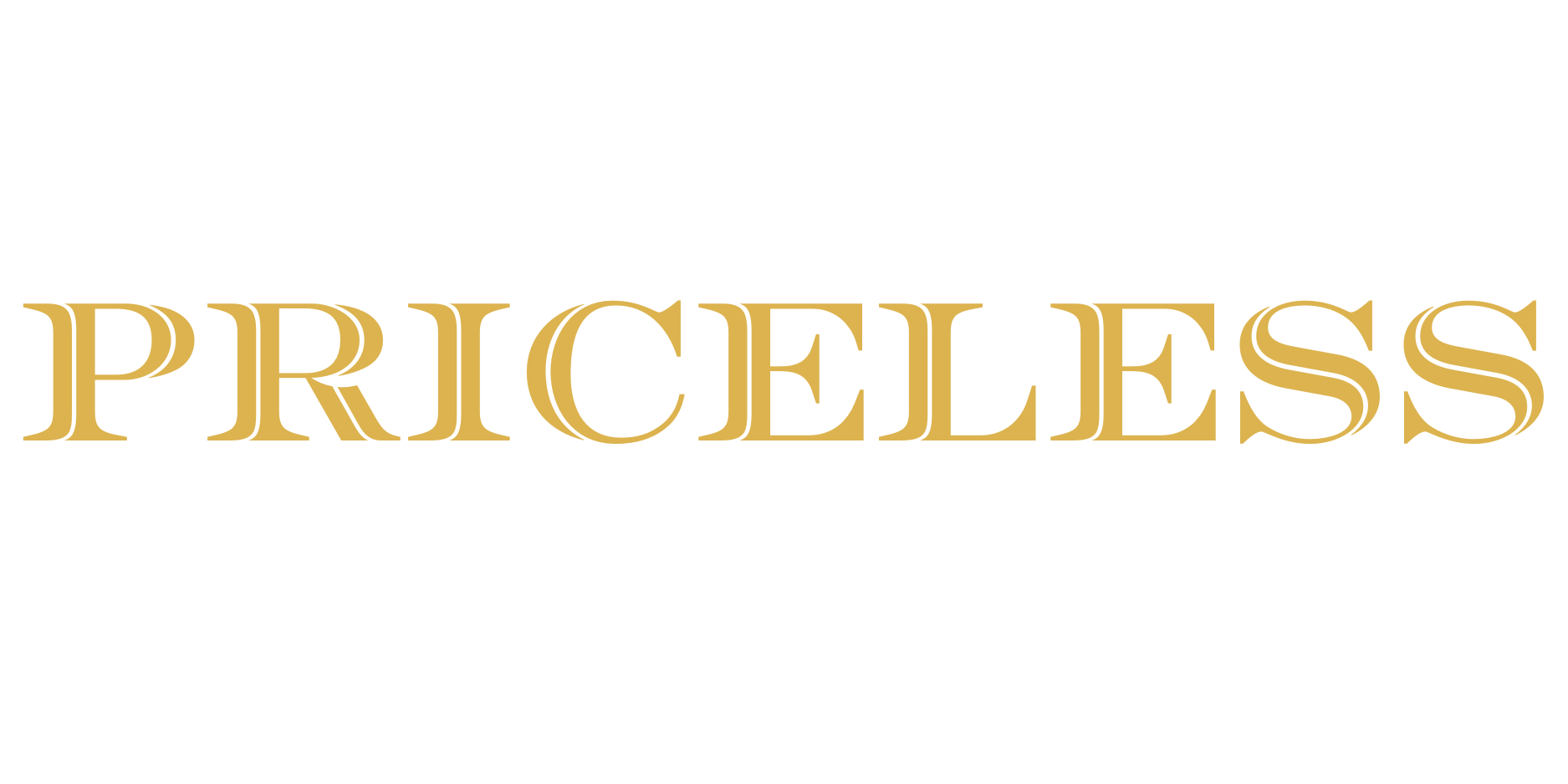 Deposit $1583
Followed by 11 monthly payments
of $1583
Deposit $1583
and subsequent payment of $14,417
When you add it all up, that's a total value of more than

How am I going to fit this program into my busy schedule?
When you're overloaded, you'll eventually get to a point where something has to give. You'll eventually get to a point where you can't waste any more time not pursuing your calling. And part of the value of this program is freeing more time for the things that light you up. You'll learn how to slash your enrollment calls and your coaching sessions. You'll learn how to automate and delegate like a boss. You'll learn how to narrow your focus down to the most effective tasks, so you end up with more time, not less.
Listen, I'm all about cutting everything away that's not absolutely essential or contributing to your life. I've got this thing down to a science, with quicker calls, digestible trainings, and lightning-speed processes. You won't waste a second on anything that doesn't contribute to enhancing your business – and you'll get there faster.
How long is the program?
This is a 12-month program where you'll build your coaching business from a side hustle or a modest $50K to 6-figures (or an additional six-figures for some!). We leave no stone unturned and no one gets left behind. This is an active push in the direction you've always wanted to go. If you're hungry for this – to own a 6-figure coaching practice – this is your chance to finally make it happen.
What is The Coach's Studio?
The Coach's Studio is a play on the "Actor's Studio," where actors go to practice and refine their acting skills. The Coach's Studio is like a virtual rehearsal studio where you get to roleplay sales calls, coaching calls, pitches, speeches and positioning work for real-time feedback. This builds your confidence lightning fast. By running through all the questions and objections that are sure to come up on sales calls — and practicing how to get your clients to change their mind and take action, you build your skills like muscle memory. When you master the sales call, you'll have more clients signing up to work with you on-the-spot.
What is the investment? Is there a payment plan?
We have a monthly payment plan as well as a pay-in-full option. As the group evolves and Laura adds more content to the vault, the value of this program will continue to increase.
Remember too that an investment is different than an expense. An investment brings returns for your business while an expense is gone once it's spent. The majority of Laura's clients earn back their investment within a year at most by selling A-list packages with ease.
As one of Laura's clients put it so succinctly, "I didn't think I could afford it, but I knew that soon I wouldn't be able to NOT afford it." The cost of not moving forward far exceeded the cost of any program.
Will I get to work with Laura directly?
You will have a 1-1 onboarding call with Laura. Every week, Laura hosts every call. You'll have a chance to ask her questions. She also holds monthly rehearsals in The Coach's Studio with direct support and feedback on your skill development. In addition, Laura makes herself accessible in the private group, so you're never on your own.
Is this program really for me?
If you're currently working in a day job with a coaching side hustle and can't quite see how to make the leap, or you've had a coaching business for a few years with modest success, you are a good fit for THE A-LIST. This program is for ambitious professional coaches who are serious about taking their practice to 6-figures and beyond and impacting more clients' lives by becoming a renowned coach who's at the top of their game in every way.
What if I'm just starting my business?
If you're a freshly certified coach and you haven't helped a few clients yet, or you're dabbling in the coaching world, I recommend getting some experience in your portfolio before joining THE A-LIST. We have a FOUNDATIONS program you can check out on our site too. And if you're not ready to make sales calls a priority, this program might not be right for you.
If you're coachable and ready to step outside your comfort zone, you've invested in a coaching certification and have some experience, and you're willing to take disciplined action, then this program is going to be the catalyst for growth that far outpaces the status quo.
What if I've already invested in other coaching or group programs?
If you're wondering if this program will be any different than other programs you've invested in in the past, the answer can only be a resounding yes. No other program exists that's taught with the seasoned expertise of an actor, writer, speaker, author, and A-List coach like Laura where you get as much high-level, customized support and screen time as you do here. Laura's fielded questions for years on how she accomplished all the things she's done and she's ready to share the ins and outs with you. She has kept up with the times and still prospers in the areas you seek to grow in.
Remember, many other programs are led by people who aren't master credentialed coaches or even coach by the ICF definition of coaching.
If you're currently enrolled in another program about coaching or sales, this program works really great in conjunction with them to sharpen and refine your skills even faster. It exposes you to a bigger network of professionals and an unequivocal level of support.
What is Laura's teaching style?
Laura is very matter-of-fact and serious about her work, but she's also super relatable with a witty charm. She has an edge. She's the curly-haired powerhouse with the nose ring who has unapologetic confidence and go-get-em drive. You could sit down with her over coffee but not get away with kidding yourself. She offers no false hopes or pretenses, just real, practical coaching support to grow your business.
Laura also values hands-on, boots-on-the-ground work. You can't hide behind your laptop if you want to work with her. You have to show up to get results in your business. Laura takes an inside-out approach, working on who you are on the inside before working on external skills.


Deposit $1583
Followed by 11 monthly payments
of $1583
Deposit $1583
and subsequent payment of $14,417
Take Center Stage & Become a Renowned, 6-Figure + Coach
Results vary depending on many variables. Time and effort are required to create ideal results. We work with you to see you succeed beyond where you came to us at. We do not make refunds available. We deliver what we promise. We support you to fulfill your promise.