Industry Prestige
5-Star Fees
Scalable Impact
Stop Trading Hours for Dollars &
Leverage Your Experience
as a Leading Coach
to Become a Brand that Pays You Dividends
for Decades
Business Mentorship for Coaches With Nationally Renowned Coach, Speaker, and Best-Selling Author Laura Berman Fortgang
You've got the coaching chops to:
Charge

even higher fees

for your transformational work

Create a future that doesn't require you to trade hours for dollars

Turn your genius into a methodology that becomes a global brand

Become the

'asked for by name'

coach in your area of expertise

Speak at world class events

Design programs & courses that allow you to impact more people

Land book deals & media spotlights

Become renowned for your impact
You're at the top of your game asking, "Now what?"
Only a few coaches become real brands in the industry and you can be one of the few:
is your ticket to the inner circle of coaches
who go beyond the world of solo-practitioner to become a brand that impacts the world.
When you have client testimonials like this,
EVERYTHING CHANGES.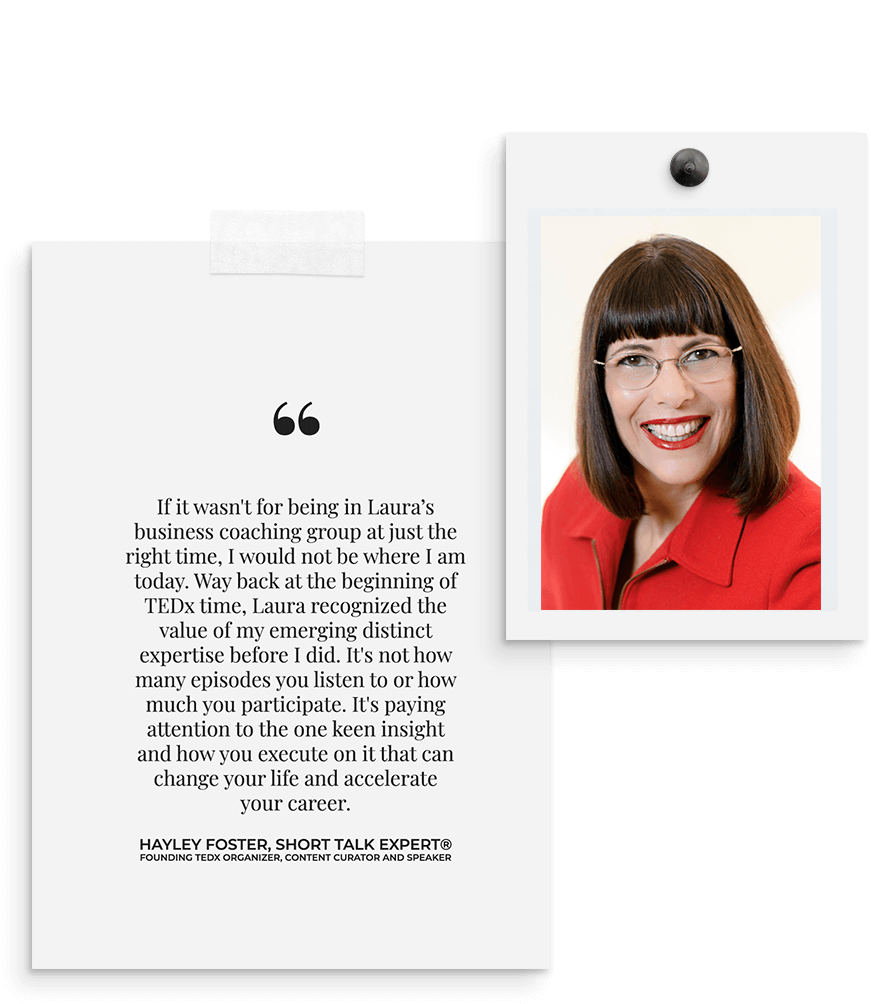 Average coaches struggle.
A-List coaches build brands.

The difference is simple:
Packaging.
Hello my friend!
Laura Berman Fortgang here, Nationally Renowned Coach, Speaker, and Best-Selling Author.
The difference between average coaches and great ones is their ability to get sensational client results.
(of an event, a person, or a piece of information) causing great public interest and excitement
And the difference between great coaches and A-List ones? Packaging their expertise so that MORE people can get those results without trading hours for dollars.
Here's what it looks like to create a brand
:
You package your hard-won expertise into a

methodology

You use that methodology in leveraged settings (where you're serving more than one person at a time), like group coaching programs, workshops, trainings, and seminars

You turn that methodology into products that people love, like books, courses, and programs 

You lead the narrative about your brand by defining your story and telling that story on purpose

You book speaking engagements, keynotes, and podcast interviews because your unique methodology stands out

Your media presence and association with top industry leaders builds an A-List brand and your services become more & more desirable

Your A-List reputation commands higher and higher fees and your private client spots grow hard to come-by (You're booked for months!)

You can license your brand, negotiate royalty deals, get featured in top media outlets, collaborate with other industry A-Listers, run retreats, or create any other myriad of experiences!
By focusing on building my brand, I've become known as an A-List coach:
Established and sustained a multi-six figure coaching practice
Helped build the ICF from scratch
Worked with giant corporate clients like TJMaxx and Johnson & Johnson
Worked with celebrity clients for Saturday Night Live, CNN, Hollywood, and more.
Featured in Money Magazine
Wrote five best-selling books with major publishers
Interviewed by Oprah and every major US news outlet
Presented a Tedx Talk with over 1.6 million views
But wait! Before you think I have some Ivy League credentials or a fancy publicist, let me tell you:
The only people who get rejected more than coaches are actors, and being a struggling actress is exactly where I started out.
In my tender years of 22-30, I worked as a professional actress. Highs and lows. Rejection after rejection. It was ruthless and brutal. After eight years in industry, I woke up one day and knew that path was no longer for me.
But I learned so many things that have skyrocketed my career as a coach.
Within 9 months of starting my coaching practice, I had landed large corporate clients and was starting to receive international acclaim.
The techniques I had learned from my acting background were finally paying off!
Presence
Commitment
Communication
Unafraid of rejection
I'll show you how to create the mindset & skill set you need to become a coach people ask for by name.
Clients pay you for ONE REASON:
They want to be more like you.
And when you build a brand with an award-winning methodology, it's easier for them to see that the path to transformation is clear and concrete.
Most coaches aren't taught the business side of the business much less, how to package their expertise into a methodology.
(Good thing you're not "most coaches.")
Isn't it kinda crazy that most coaches spend their entire careers trading hours for dollars?
They're never taught to architect a brand that can pay them dividends for decades. So they are often frugal, never investing in their business and finding their business growth leveling off and not growing.
The truth is: The coaches who become the most prominent in their fields build brands.
Think of the famous coaches you know: Mel Robbins, Tony Robbins, Brooke Castillo, Marie Forleo, Martha Beck, Jack Canfield, Jen Sincero,…
They have books, programs, slogans, methods, coach training programs, T.V. shows, charity sponsorships, and more.
They've learned to architect their brands from a bigger vision of how their impact can change the world.
And you can, too.
It all starts with the seed of an idea.
Mine started after 9/11 with clients who were catapulted by this wake-up call to figure out what they wanted to do with their lives.
From there, I spent years figuring out how to do that – and I packaged it into my book and signature programs,
Now What?® Coaching.
As a veteran coach, you've spent your career making an impact, and I'm certain there is a methodology inside of you, too.
All we have to do is MINE IT.
This all may sound very pie-in-the-sky to you. So let's start with the basics.
Building an A-List brand requires 4 main areas of focus:
Mastering the mindset of an A-Lister, so you're ready for more visibility, more clients, and 5-star fees

Mining your methodology, the foundation of your A-List brand

Messaging and Packaging yourself + your methodology into various forms of leveraged income (like workshops, keynotes, and books)

Management of your business as a Founder/Owner vs a solo practitioner

Marketing from your elevated A-List presence and strategizing smart brand promotions (without spending all day on social media)
THE A-LIST PROGRAM WILL TEACH YOU THESE SKILLS STEP BY STEP.

The 4 Fatal Errors

Talented Coaches Make
that Keep Them Off the A-List
They never think beyond 1:1 clients

.
Great coaches follow a familiar format, coaching private clients 1:1 (we all start there!). I'll show you how to achieve front-page results by serving more clients with multi-person workshops, trainings and programs.
They stay busy instead of thinking strategicallY
Those 1:1 client sessions can stack up back-to-back and leave little room for their efforts to scale. Our A-List Coach's Positioning System leverages brand notoriety and how you package your expertise to command higher fees.
They avoid marketing because of the tech

.
What the widget?! We could all spend lifetimes learning all the strategies and software to market our businesses online. Forget the tech. I'm going to show you how to market more in terms of brand promotion, so you can publicize your expertise without complicated tech.
They don't recognize their intellectual property

.
Many great coaches don't realize the signature methodologies and teachings they use with their clients are their intellectual property. They miss out on opportunities to license and leverage this intellectual property to build demand for their brand.
TEACHES YOU HOW TO BUILD A RENOWNED PERSONAL BRAND.
Here's what you'll learn:
How to Build the Foundation of an A-List Brand by Mining Your Methodology
You can distinguish your brand from great to A-List with your signature methodology. You can turn your methodology into more products that clients love and pay back dividends for decades. We spend some time Mining Your Methodology to find what signature offer, product, or method you're already using that can build demand and brand reputation.
Package Your Methodology into a New Stream of Income (or Higher Fees for What You Already Sell!)
Your methodology opens new areas of opportunity for you including books, courses, and programs. I'll show you how to use your methodology to build out a memorable brand presence and craft it into the subject of speaking engagements, keynotes, and podcast interviews. Once you mine your methodology, your brand recognition starts to pick up and you can command higher fees.
Get Ready for More Visibility & More Clients by Adopting the A-List Mindset
The media spotlight doesn't shine on the everyday coach among all the other everyday coaches. It shines on coaches who have something noteworthy to spotlight. All it takes is one impressive media opportunity, and your brand presence starts to build momentum. I'll teach you how to multiply your A-List media presence and client demand with a memorable methodology.
Take Initiative to Elevate Your A-List Presence by Doing Smart Brand Promotion
Your time is precious, precious gold. If you want to take your practice to A-List status, you have to spend your time in a way that allows you to earn more. That doesn't include spending all day on social media trying to build your audience. All you have to do is use my process to focus your efforts on landing those 1 or 2 big opportunities and use your methodology to multiply your income and impact.
I can see your path to leveraged impact and A-List status. Will you follow it?
In my program, you can accomplish all this:
Turn your expertise into a unique methodology that casts your brand in the leading role in your market

Package your methodology to bring you more visibility, speaking opportunities, and chances for sponsorship

Learn about all the ways your intellectual property can make you money which can include:

Licensing your intellectual property to collect royalties and make your brand more & more desirable

Multiplying your income with books, courses, and workshops that can serve more people at once 

Launching a paid speaking career and/or Tedx Talk 

Establishing an impressive media presence associated with top industry leaders, outlets, and publications

Build a phased business plan to reach these milestones
All while you:
Fill your client roster with a waiting list of premier clients paying top dollar to work with you

Preserve your sanity and free time to spend on your favorite off-stage pursuits
THE A-LIST GIVES YOU A PLACE TO BUILD A BRAND THAT LEAVES A LEGACY.
The A-LIST will have you leveraging
sensational client results like these:
 (We know you have them, but you have to learn how to leverage them!)
Coaching with Laura
Laura will be training & coaching you to create your sensational brand breakthrough for 6 months one-on-one. You don't have to "wing it" or figure everything out yourself. Laura makes herself available to her A-LIST clients.
Monthly Guest Experts
Every month, Laura will feature a guest speaker with expertise in all areas currently popular and available to be visible with your brand. 
You'll have past recordings of previous guests to review as well as LIVE new guests who can answer your questions about social media, videos (reels, tik tok), Linked In, podcasting, publishing, courses, programs, PR/media opportunities, public speaking, Tedx Talks and more.
Instead of taking separate trainings in all these areas, we'll bring them to you! We'll help you decide which vehicles for visibility will fit your methodology and goals.
Access the Private Facebook Group
Use the A-LIST Facebook group to mastermind with your peer coaches who are taking themselves to the top of the industry. Share industry contacts, network, collaborate, ask questions, and get support from your fellow coaches. A rising tide lifts all boats, and together we rise.
I know what you're thinking…
"Is this going to work for me?"
This program only works if you work it. Whether you're hoping to leave corporate to follow your dream of becoming an A-List Coach or you're a few (less than lucrative) years in, this program will get you to a much higher level in business quicker than you can get there by yourself. If you follow the guidance I give you, you won't fail. (There might not be a "magic pill" for success, but there are ways to ensure failure never happens.) I've helped teachers, doctors, entrepreneurs, and other types of professionals live their calling as a well-paid coach, so I can absolutely help you. But you absolutely have to do the work. The responsibility for taking action belongs entirely to you.
Your confidence, cash flow, and client base depends on your ability to inspire sensational client results like these!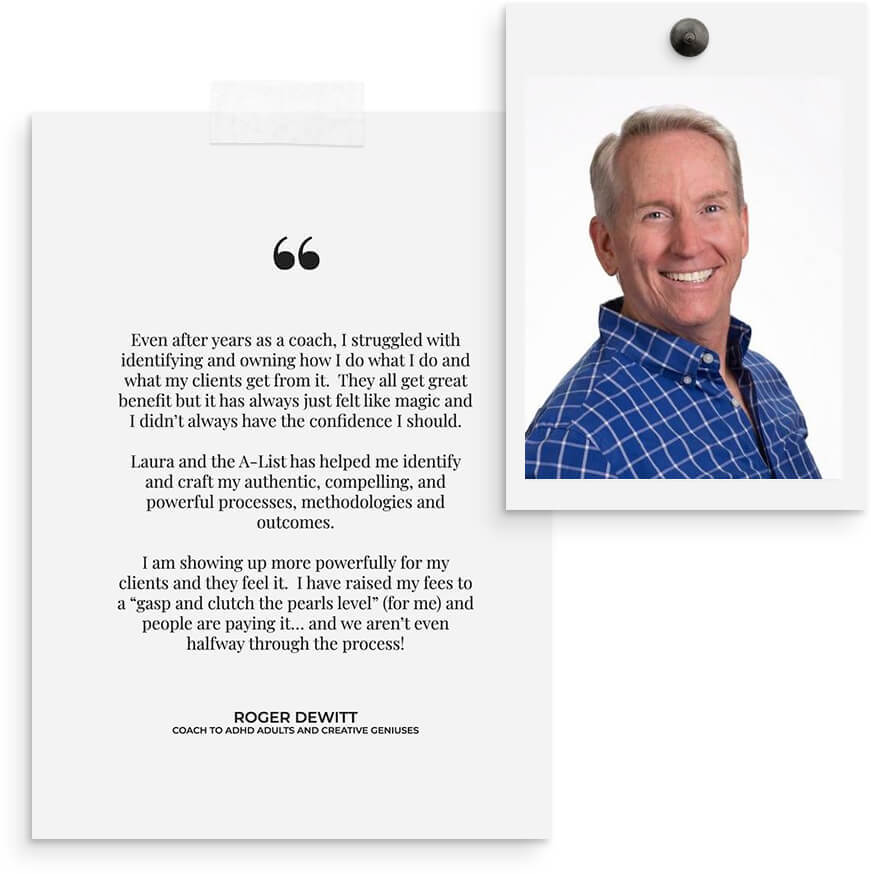 Become a leading coach and A-List brand:
Become known for your expertise and your impact

Corner the market with your unique methodology 

Develop your message and presence for larger stages

Design programs to increase your sphere of influence 

Establish a reputation that precedes you

Charge higher fees and stop trading hours for dollars

Secure book deals, media spotlights, and elite clientele
My hill to die on? If you're at the top of your game, getting sensational client results, you'll impact many more lives when you mine your methodology and package your expertise into an A-List brand that can impact the world.
Everything I stand for comes down to this: Your success is inextricably linked to how you communicate the sensational results you help your clients create. We do that in how you package and present your methodology.
Stop being a well-kept secret!
With a methodology – the profits, the visibility, the reputation will all take care of themselves.
Over the course of my career in acting, training, public speaking, and career strategizing, I noticed this one thread weaves through all reaches of success.
Once you land a Premier Client and help them achieve incredible results, droves of Premier Clients start coming to you.
Once word gets around that you have the chops to create sensational results, people start to ask for you by name.
Once you've developed your own methodology or signature offer/package your visibility and reputation grow your the demand for your services
Once you land an impressive media opportunity, your A-List presence starts to build a reputation.
Once you're seen as an A-List coach, your fees start going up and your waiting list gets booked out.
All you need to do is learn my Sensational Results Coaching and Business Techniques to take your client results from average to A-List.
And I'm here to direct you to the fastest path to those results.
6 Months of Coaching and Mentorship
from Laura Berman Fortgang
(a $30,000 value)
The focused attention you need to take your business from obscurity to 6-figure renown
Three sessions a month with Laura for 6 months where you'll learn her hard-won knowledge, techniques, and practical applications to mine your methodology, elevate your prestige and master the business side of a coaching business (vs private practice).
In addition to working one on one with Laura, you'll receive
BONUS CONTENT
Monthly Guest Expert Broadcasts (pre-recorded)  (a $4, 500 value)  where you'll be exposed to the various ways you can communicate your message to choose which suits your goals and will help you gain more client results, super fast.
Access to the Private Facebook Group
(a $2,997 value)
The conversations, collaborations, and connections you need to build a community of peers who are taking themselves to the top
Share industry contacts that help you elevate your positioning and access opportunities to build your A-List Presence
Ask questions and get "hive-mind" feedback based on what's working in real coaching businesses now
Propose collaborations and content swapping to grow your audience and build confidence in being visible in the industry
Receive feedback from Laura and her team 5 days a week on your posts inside the group for those in-between questions that can't wait for the next coaching call
Total Value of THE A-LIST:
($47,494)
ADDITIONAL PAY-IN-FULL ONLY BONUS CONTENT For more fuel and power
Discover Your Passion-Driven Purpose
If you're still gaining clarity on what your unique methodology would focus on, we invite you to a deep dive in Laura's proprietary Purpose Process to crystalize what you're here to contribute. Despite your success, this level of clarity can still be hard to come by. Having a clear awareness of your purpose will then fuel the passion you have for coaching further and help you clarify your branding.
Our Entire FOUNDATIONS Training
We will provide you with the keys to the vault to our entire 90- day FOUNDATIONS program.  This is our foundational program that can help you gain traction on your A-List ascent by revisiting any missing pieces you might have in your current practice.  If any fundamentals, have been missed, this will steady the ship and make it less bumpy as you grow.
Total Value of THE A-LIST:
($47,494)


When you add it all up, that's a total value of more than
If you pay in full, with extra bonuses it's $41,441!
You ain't gettin' a refund* but I'll give you everything I've got.
Generally speaking, we do not offer refunds. If you need support regarding your payments or if you're having challenges being successful with the program, our doors are always open. Reach out to our team to get the support you need.
But rest assured.
If you're 100% committed to implementing what you learn in THE A-LIST, you can't go wrong. My team and I will do everything in our power to support you to see the success you came for.
*See agreement for two-week good faith effort clause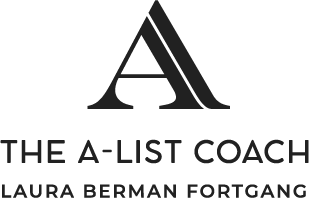 LAURA'S COACHING & BUSINESS-BUILDING STRATEGIES WORK
Here's what Laura's amazing clients have to say about working with her.
When your clients make big moves like these, YOUR REPUTATION PRECEDES YOU.
6 Months of Mentorship with Laura (one-on-one)

A-List Coaching Private  Mastermind Facebook Group
Monthly Guest
Speakers Broadcasts

ADDITIONAL PAY IN FULL ONLY BONUSES
Bonus #1 Discover Your Passion Driven Purpose Mini Course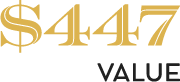 Bonus #2 The A-List FOUNDATIONS Program



When you add it all up, that's a total value of more than
If you pay in full, with extra bonuses it's $41,441!
How am I going to fit this program into my busy schedule?
When you're overloaded, you'll eventually get to a point where something has to give. You'll eventually get to a point where you can't waste any more time not pursuing your calling. And part of the value of this program is freeing more time for the things that light you up. You'll learn how to slash your enrollment calls and your coaching sessions. You'll learn how to automate and delegate like a boss. You'll learn how to narrow your focus down to the most effective tasks, so you end up with more time, not less. And you'll learn to package your own methodology to garner an A-List reputation where clients come to YOU.
Listen, I'm all about cutting everything away that's not absolutely essential or contributing to your life. I've got this thing down to a science, with quicker calls, digestible trainings, and lightning-speed processes. You won't waste a second on anything that doesn't contribute to enhancing your business – and you'll get there faster.
Is there a payment plan?
We have a monthly payment plan as well as a pay-in-full option. 
Remember too that an investment is different than an expense. An investment brings returns for your business while an expense is gone once it's spent. The majority of Laura's clients earn back their investment within a year at most by packaging their methodology and shifting their business out of practitioner mode. 
As one of Laura's clients put it so succinctly, "I didn't think I could afford it, but I knew that soon I wouldn't be able to NOT afford it." The cost of not moving forward far exceeded the cost of any program.
Is this program really for me?
This program is for ambitious professional coaches who are serious about taking their practice to new heights  and impacting more clients' lives by becoming a renowned coach who's at the top of their game in every way.
You'll need to have hours in the field and client results to speak of so Laura can help you mine your methodology, the basis for your business plan.
What if I'm just starting my business?
If you're a freshly certified coach and you haven't helped a few clients yet, or you're dabbling in the coaching world, I recommend getting some experience in your portfolio.
You are better suited for Laura's FOUNDATIONS level of the A-List. We are starting a new round very soon. Check it out here.
What if I've already invested in other coaching programs?
If you're wondering if this program will be any different than other programs you've invested in in the past, the answer can only be a resounding yes. No other program exists that's taught with the seasoned expertise of an actor, writer, speaker, author, and Master Credentialed A-List coach like Laura where you get as much high-level, customized support and screen time as you do here.
If you're currently enrolled in another program about coaching or sales, this program works really great in conjunction with them to sharpen and refine your skills even faster. It exposes you to a bigger network of professionals and an unequivocal level of support.
What is Laura's teaching style?
Laura is very matter-of-fact and serious about her work, but she's also super relatable with a witty charm. She has an edge. She's the curly-haired powerhouse with the nose ring who has unapologetic confidence and go-get-em drive. You could sit down with her over coffee but not get away with kidding yourself. She offers no false hopes or pretenses, just real, practical coaching support to grow your business.
Laura also values hands-on, boots-on-the-ground work. You can't hide behind your laptop if you want to work with her. You have to show up to get results in your business. Laura takes an inside-out approach, working on who you are on the inside before working on external skills.


Claim Center Stage & Become a Renowned Coach
Results vary depending on many variables. Time and effort are required to create ideal results. We work with you to see you succeed beyond where you came to us at. We do not make refunds available. We deliver what we promise. We support you to fulfill your promise.
*See agreement for two-week good faith effort clause